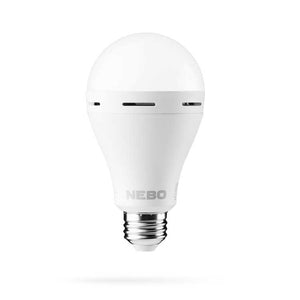 Prepare for unexpected power outages with the NEBO BLACKOUT BACKUP EMERGENCY BULB, a game-changer in home lighting solutions.  This ingenious LED bulb doubles as a standard light source and a reliable emergency light, effortlessly fitting into most lighting fixtures.  Its rechargeable internal battery stays ready, ensuring up to 12 hours of bright, reassuring light during sudden blackouts.
Installing the bulb is as simple as twisting into your light socket.  When powered, it operates in a Fixture High Mode, emitting a brilliant 850 Lumens.  In the event of an outage, switch to the Backup Mode and choose between Backup High, Medium or Low, providing 500, 185 or 80 Lumens, respectively.
This energy efficient marvel uses a mere 8 watts, making it a perfect replacement for your 60-watt incandescent or even CFL bulbs.  The bulb comes with a power cap, transforming it into a portable handheld light, while the integrated hanging hook allows for versatile placement options.
With the BLACKOUT BACKUP Emergency Bulb, gain the peace of mind and independence knowing you're always one step ahead of the next power outage.  Illuminate your space consistently, even when the power's out.