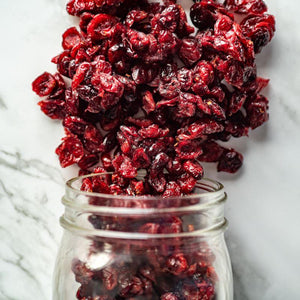 Sun-dried cranberries are a delicious healthy treat. These tart red berries are loaded with nutrients, antioxidants, and cranberries are phytochemical powerhouses packed with 5 times the antioxidant content of broccoli. Antioxidants neutralize free radicals which can damage cellular DNA and contribute to everything from premature aging of the skin to various cancers. 16 oz bag. 
This product is Gluten Free*

**Allergy Info:  Packaged in a facility that processes Peanuts, Treenuts (Including Cashews, Almonds, Hazelnuts), Milk, Soy, Egg, and Wheat.