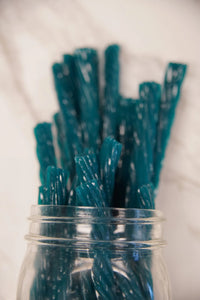 These delicious blue raspberry twists are sure to satisfy your licorice cravings!
Ingredients:
Enriched Wheat Flour (Wheat, Iron, Niacin, Thiamine, Riboflavin, Folic Acid) Corn Syrup, High Fructose Corn Syrup, Sugar, Water, Modified Corn Starch, Apple Juice Concentrate, Artificial Flavor, Maltodextrin, Citric Acid, Salt, Malic Acid, Palm Oil, Soy Lecithin, Glycerin, Soy Mono- & Diglycerides, Ascorbic Acid, Artificial Colors & Blue #1
16 oz bag
Contains Wheat & Soy. Product of the U.S.A.